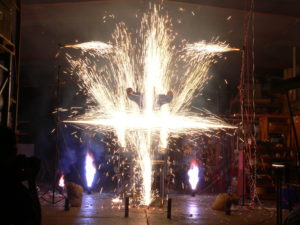 Professional Fireworks Training
Firework Professionals is the place to go if you want to become a pyrotechnician. We provide fireworks training for Compliance Handler Pyrotechnicians and run firework training courses in Level 1 – 3 outdoor and indoor pyrotechnics, special effects, and battle simulation effects. We also have an online only course to handle Retail Fireworks.
Our practical courses are limited to 6 students per course, the focus is on providing the most thorough fireworks training available in NZ. Multiple training venues offer the practical challenges you'll find as a professional technician. Practical work is suplemented with informative lectures from internationally respected compliance certifier, Anthony Lealand.
Our trainers are all full time technicians who have been firing fireworks displays, running courses and lecturing in pyrotechnics for more than twenty years. We can tailor your training to your specific requirements. In addition, we offer training upgrades and large shell firing to qualified Compliance Handlers (what were called "Approved Handlers").
Compliance Handler Qualification
Until 2018 Compliance Handlers were known as an "Approved Handlers".
Compliance Handlers must hold a Controlled Substance Licence. We assist you with obtaining this once you have passed our exams and met the formal requirements for certification. We offer ongoing advice, support and on the job training, along with discounted refresher courses to all our past students.
Please note that CH certification is not automatic. Firework Professionals reserve the right to screen training applicants and to withhold qualifications for unsuitable candidates. Candidates are police vetted for suitability to hold a CSL.
Age limit – 17 years
All courses held in Christchurch.
Please note that no student loans or allowances can be approved for these courses as there are currently no NZQA approved courses for pyrotechnics.
Online Training
At Firework Professionals we want to make your training as easy and efficient as possible. Therefore we are making it possible for you to do the theory parts of your Compliance Handler training at home (or at work) online. Then when you come to Christchurch for your training we can concentrate on the hands on side.
By using the links below you can get 20% discount on a course at Udemy.
Basic Rigging for Fireworks

We are in the process of putting the classroom part of our outdoor fireworks course on-line on Udemy.com, which is an online training and teaching website. In this way you will be able to do the classroom study at your own pace at home. Then you will spend all of your practical time with us creating, rigging and firing your fireworks shows.
Plus the course material is always yours, there for you to check – and may be updated as technology or regulations change.
So, if you want to be a "Compliance Handler" (what was called until recently an "Approved Handler") you will need to complete the theory and then apply for (and pass) the practical course. In order to be considered for the practical course you will have had to complete all of the lectures and get all the quizzes right – plus complete the assignments in the final (Bonus) lecture for all the theory courses. Finally with your Compliance Handler certificate you are able to apply for a Controlled Substance License, which licenses you to fire firework shows for five years.
There are a number of theory courses planned:
Overview and Basic Safety for Outdoor Fireworks (US$20)
Basic Rigging for Firework Shows (US$200) – tools, fusing, ignitors, starshells up to 5″
Rigging 102 for Firework Shows (US$200) – ground effects
NZ Regulations for Outdoor Fireworks (US$200)
Firing your Firework Show Safely (US$200)
Large starshells (optional – only needed for level 3) (US$100)
You can do any one course standalone – and by using the code FPLWEB you will get 20% off the full price. Or you can do the first five courses for US$500 – or all six for US$560 – by contacting us and we will give you a personal code to use.
Retail Fireworks Training
As well as professional training, we also offer training and certification for people wanting to sell Retail fireworks to the public over the Guy Fawkes period. The course can be completed online at your own pace here at Udemy (the coupon FPLWEB gets you 20% discount).  A written exam, completed in your own time follows the online training. A pass rate of 80% is required to obtain the AH qualification, which is valid for 5 years.
Contact us for more information and pricing.