Pyromusicals – Fireworks Dancing to Music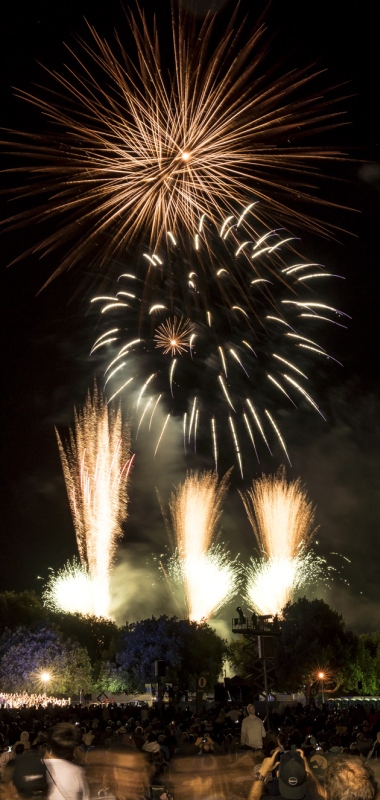 Firework displays choreographed to music are known as pyromusicals. A pyromusical is a specialised fireworks show that takes pyrotechnic displays to a whole new level. Pyromusicals are our favourite type of fireworks show to design, due to the creative challenge and technical expertise they demand.
Synchronized with live or recorded classical or contemporary music, pyromusicals can run anywhere from five to thirty minutes in duration. Because choreographed displays are more complex than traditional fireworks shows, they do require some extra lead time and a larger budget. However, the extra work is well worth the effort, and the stunning results speak for themselves.
International Pyromusical Competitions
A great soundtrack, a clever and creative design, and precision firing are the key components to creating successful pyromusical firework displays. Our skills in this art form has lead to Firework Professionals being invited to represent New Zealand four times in overseas pyromusical competitions in France, Germany and China. In September 2018 we competed at the Hannover International fireworks fesitival, where we won 2nd prize.  Here's an excerpt from one of our overseas competition shows.
New Zealand and the Pacific Islands
As well as our overseas competitions we also regularly produce pyromusical productions for large-scale public events, both in New Zealand and the Pacific Islands. It's become a really fun in-house challenge for each of the team to come up with the best theme and soundtrack to offer our clients.  Or sometimes a client will come with their own pre-selected music, as is with the annual 'Sparks' show in Christchurch. We enjoy collaborating with our clients to come up with soundtracks to suit each specific event and theme.
You can see samples of our other work in the video section of our gallery.
A Pyromusical for You
To take your display to that next level, let Firework Professionals choregraph your next fireworks show and transform it into a pyrotechnic extravaganza. Contact us today.
Contact Us Today to Make Your Show or Celebration Memorable