FPL Special Effects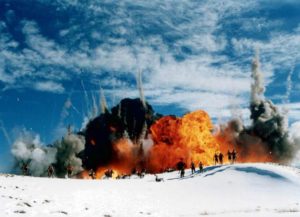 Firework Professionals has a long history in the pyro special effects industry. Beginning in Anthony's university days, we've been designing and creating special effects for pyro events, parties and live events, film shoots and shows since the 1970s.
We can develop and produce custom effects to fit your brief for any film, TV or live project. As well, we are the NZ agents for premium  special effects from major US suppliers to the film industry.
Our full-time technicians are skilled not only in pyrotechnics, but electronics, mechanics, general fabrication, fire effects and illusion. Whether it's blowing up cars, recreating battle scenes and airshow special effects, or exploding desks and copiers – Firework Professionals can provide the solution.
We provide comprehensive training and SPFX certifcation for industry people needing qualifications. Our courses can be tailored specifically for your application, so you get the right training relevant to your work.
Here's a couple of our clips and videos from some memorable shoots
Deliver Me To Hell – Hells Pizza interactive zombie adventure
"Kaitangata Twitch"  YouTube promo 
FPL spfx on YouTube
Talk to us today about how we can work with you to bring your creative vision to reality.  Because anything is possible with pyro!
Video links for mobile users:
Contact Us Today to Make Your Show or Celebration Memorable