FPL Special Effects
SPFX Live and for Film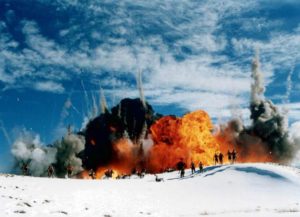 Firework Professionals Ltd has a long history in the special effects industry. Beginning in Anthony's university days, we've been designing and creating effects since the 1970s.
At FPL we design, develop and produce custom effects in house at our Christchurch head office. These effects include bullet hits, shell bursts, fireballs, AA air bursts, rocket trails and much more. We can conjure and create SPFX to match your brief for any film, TV or live project.
In addition to manufacturing custom pyrotechnic solutions we stock quality special effects from major overseas suppliers for the film  industry. Furthermore, we offer comprehensive training in special effects and battle simulation effects. Our courses can be tailored specifically for your industry application, so you get the training especially relevant to your work.
SPFX Highlights
Feature & Short Films
•       "Last of the Living" Gorilla Pictures
•       Sisterhood
•       Mother's Day
•       Rust ( Mother's Day)
•       Lure ( First Light)
•       Hells Teeth ( Revenge )
•       Pilot TVP
•       "Silmido'" Taiwan Kung Fu Drama
TV & Video
•      Deliver Me To Hell – Hells Pizza interactive zombie adventure
•       "Kaitangata Twitch" (click for YouTube promo which includes our explosion – we also did the boat sinking effect
•       What Now (Whitebait Productions)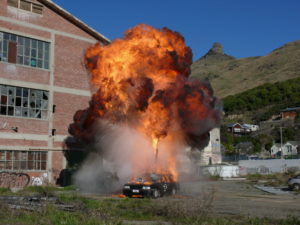 •       Jonny Love music video 'My Sympathy' by Gorilla Pictures
•       Pure Productions
•       Korean Music Video (Suicide)
•       Canwest
•       Nike
•       Saatchi Lotto Superdraw
Experienced Technicians
Our full time team of technicians are skilled in electronics, mechanics, general fabrication, and obviously, pyrotechnics. Whether it's blowing up cars, recreating battle scenes and airshow special effects or exploding desks and copiers, Firework Professionals can provide the spectacular and safe special effect solution.
Our Special Effects on Video
Take a peek at some of our special effects work on our YouTube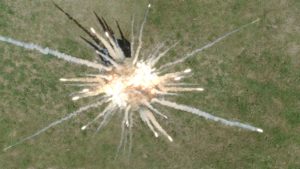 channel  or join us on Facebook and check out some our fun and explosive videos. Included is our wildly popular solution to clearing copier paper jams, which has now hit 7 million views.
Custom Special Effects for You
Talk to us today about how we can work with you to bring your creative vision to special effect reality.  Because anything is possible with pyro!
Hell Pizza Special Effects
In 2010 Hell Pizza made an interactive zombie adventure video series on Youtube. We produced some custom effects for them, including this explosion for one of the "bad" endings.
Video links for mobile users:
Contact Us Today to Make Your Show or Celebration Memorable