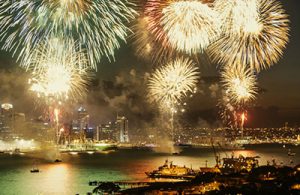 Firework Professionals has been providing supplying and firing professional firework shows since the 1970s.
It is owned by Anthony Lealand and staffed by a small group of passionate, highly experienced people in Christchurch and supported by dozens of trained pyrotechnicians throughout New Zealand and the South Pacific.
The work the company does is recognized by the international pyrotechnics community and Firework Professionals has been invited four times to compete in international competitions – Decazeville, France (2004, 2014), Shanghai, China (2006) and Flammende Sterne, Germany (2010).
We provide pyrotechnic training, both in NZ and internationally and provide technical support for international shows such as Rolling Stones, Kay Perry, AC/DC, Nickleback, and Disney on Ice.
In New Zealand, in addition to our reputation for great firework shows and pyrotechnic training, Anthony is an EPA registered test certifier.He writes articles for international publications and gives a range of public lectures and talks. He also featured in an episode of Extraordinary Kiwis.
Day to Day Work
We are often asked "what do you do when it isn't Guy Fawkes?" It's true that those few weeks around Guy Fawkes are our busiest, but there are also other peak times like New Year, Matariki and important public celebrations, as well as community, corporate and sporting events, weddings, birthdays and any other time when a firework display or confetti effects can add something extra. We work with the film and video industry providing all sorts of special effects from explosions and gun fights, to battle effects and once even a tornado.
Most of our out of town pyrotechnicians have day jobs but the core crew keep busy all year round. No day is ever the same, and we're always kept on our toes with exciting events and projects.
Maria and Heather run the office and are the main point of contact
with our clients. They make sure all the planning and organization is in place for our events to run smoothly – there's a huge amount of behind the scenes preparation that goes into those magical minutes of 'show time'.
We have two core technicians, Tony and Lachlan, who do our pyro manufacturing, technical design and fire the firework shows. Selecting the effects, packing and shipping all the gear needed for the show – igniters, mortars, cables, firing systems and safety gear is all part of the preparation. Choreographed shows, created in time to music, are a technical and creative challenge we enjoy most.