Confetti and Streamers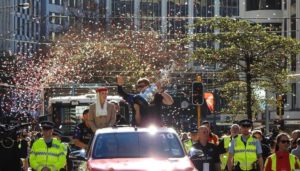 Confetti and streamers are great fun for all celebrations. Firework Professionals carry a variety of confetti cannons and streamer solutions. These include hand held fire-it-yourself pressurized gas cannons, giant pyrotechnic powered cannons, as well as DMX confetti droppers and blowers, and electrically fired cannons. With options starting at $20 there is confetti for every budget.
Range of Materials, Colours, Shapes, and Delivery
A wide range of streamer and confetti fill colours are available in biodegradable paper and in shiny metallic finishes. These come either prefilled or filled by us to your individual requirements.  We stock streamers and large rectangle confetti, as well as metallic confetti hearts and stars. Additionally, Firework Professionals can produce confetti cannons labelled with your company logo or personal design and made special confetti shapes for extra special occastions. Our poppy confetti was produced especially for the 2015 ANZAC parade in Wellington.
Celebrate with Confetti NZ
Confetti and streamers are a great crowd pleaser for outdoors, up close venues, as well as large indoor arenas.  In fact they are perfect for all celebrations! Family gatherings, including weddings, anniversaries and gender reveal parties all lend themselves to confetti. So too do award ceremonies, promotions, film shoots, sporting events, and full scale ticker tape parades. FPL was successful in providing confetti and streamer solutions for the 2017 America's Cup street parades in Auckland, Wellington, Christchurch and Dunedin.
Talk to us today about bringing some colour and fun to your next event with confetti and streamers.
Contact Us Today to Make Your Show or Celebration Memorable