Confetti and Streamers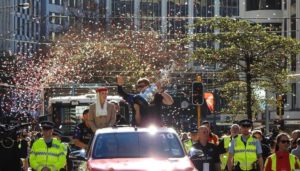 We have a wide range of confetti cannons and streamer options, suitable for most celebrations. We also can supply loose confetti and streamers along with a range of delivery methods.
Firework Professionals has provided confetti and streamer solutions for many major event celebrations. One of the most fun was for the America's Cup street parades in Auckland, Wellington, Christchurch and Dunedin. Every city chose different effects and delivery to celebrate in their own style, and we loved bringing it all together.
Confetti and streamers are always a crowd-pleaser, suitable to use in most locations and venues, indoor or outdoor. They're great for all celebrations. New Year's Eve is always a night for confetti, streamers and fireworks. And every other day too for birthdays, weddings, anniversaries, and parties; award ceremonies, promotions, film shoots, sporting events, and full scale ticker tape parades.
Range of Colours, Shapes, and Materials
We have a very wide range of colours available. To see exactly what is on offer check out our online store.
We can make cannons individually labelled with your company logo or personal design, as well as special shaped confetti to represent your event or brand. Our poppy confetti was designed especially for the 2015 ANZAC day street parade in Wellington.
Our range of streamer and confetti fills is available in biodegradable paper and in shiny metallic finishes, either pre-filled or custom filled for you.
Fully Biodegradable Rice Paper Confetti
We also stock completely dissolvable rice paper confetti cannons. Available in loose white confetti or multi coloured fill packed into 80cm handheld cannons, rice paper is perfect for outdoor venues as you simply hose down the confetti and it will disappear overnight.
Ways of Delivering Confetti
We have not only simple twist top cannons but also DMX and electric firing options. So, your choices include:
– Hand held fire-it-yourself pressurized gas cannons in two sizes –
40cm & 80cm, prefilled with tissue, metallic or dissolvable confetti, or filled with your own colour choices
– Electric or DMX fired 40cm or 80cm cannons and cannon launchers
– DMX confetti droppers fired from a lighting rig
– DMX confetti blowers fired from ground level
– Large electric powered cannons
– Loose or metallic or eco-friendly biodegradable tissue  confetti and metallic hearts and stars
– Streamer tubes in tissue or metallic colours.
With options starting from $20, we have confetti and streamer options for every budget.
Buy Online
You can order cannons and confetti directly from our online store or contact us to discuss more complex events and delivery systems.
Contact Us Today to Make Your Show or Celebration Memorable