Confetti and Streamers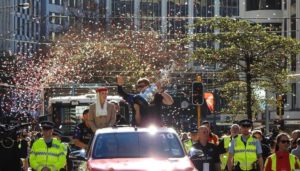 Confetti and streamers add a pop of colour to celebrations, both indoor and outdoor. Firework Professionals has a full range of confetti, streamers, and cannons. Choose from loose or pre-packed options, delivered to you in the most convenient way possible. We have all the colours in disposable, biodegradable, and metallic paper finishes. Our cannons can be individually labelled with your company logo or a personalised design, and we offer specially shaped confetti to match your event or brand. For outdoor venues, our rice paper confetti is perfect as it disappears overnight when hosed down.
Multiple ways of delivering the confetti
We have simple twist-top cannons, DMX and electric firing options:
– Hand-held fire-it-yourself pressurised gas cannons in two sizes –
40cm & 80cm, prefilled with tissue, metallic or dissolvable confetti, or filled with your own colour choices
– Electric or DMX fired 40cm or 80cm cannons and cannon launchers
– DMX confetti droppers fired from a lighting rig
– DMX confetti fans fired from ground level
– Large electric-powered confetti blowers fired from ground level
– Loose or metallic or eco-friendly biodegradable tissue  confetti and metallic hearts and stars
– Streamer tubes in tissue or metallic colours.
With options starting from $20, we have confetti and streamers for every budget.
Look at our range to shop now or contact us to discuss your event ideas and occasion.