Fireworks Head Office
Christchurch is home to Firework Professionals' head office. While we also have a distribution centre in Auckland, our core staff are based in Christchurch. From administration services to our manufacturing plant, it's the hub where all the pyrotechnic magic is made – we even do Christchurch firework shows.
Firework shows for all occasions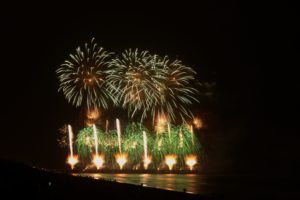 Firework Professionals design and perform a large number of shows in Christchurch each year. The major displays we've designed are the 'Treetech Guy Fawkes Fireworks Spectacular' on New Brighton pier and the 'Sparks' Hagley park concert where we synchronise the fireworks to the finale piece played live by the Christchurch Symphony Orchestra (Anthony has written a short history of Sparks). Our fireworks are a crucial part of winter events too, such as the 'Lyttelton Harbour Festival of Lights', and 'Kidsfest'.
Cantabrians can enjoy fireworks year round
Firework Professionals work all around the Canterbury region, designing and firing shows for public and private events. We also supply fireworks to technicians we've carefully trained up to run their own displays for local events. Having so many highly skilled pyrotechnic experts throughout Canterbury means many world class fireworks shows occur all year round.
Special Effects and Confetti
Additionally, we are often called upon to provide special effects for local film and TV productions. These range from vehicle explosions and indoor effects for music videos, to one off art installations. As well we stock a wide range of confetti and streamer products for celebrations, awards nights, private parties and more.
Contact us
If you're planning an event or celebration talk to us about fireworks, special effects or confetti options. Fireworks shows can be surprisingly affordable, and we're always happy to provide a no obligation quote for you.
"Thanks for a stunning 1812 Pyro display – just wow! Speechless as always to the story you tell through colour, pyro choice, musical interpretation and precision timing. But it is appreciated and noted."
Sheena Events Co-ordinator Sparks 2018
"WOW!!!!!!!!!
What a great firework display!!! It really was spectacular and everyone is talking about it!!
The whole evening was a huge success with the Fireworks being the highlight!!
Thank you so much for all that you and your team have done to make it happen."
Claire Events Team Lyttelton Harbour Festival of Lights
"Thanks first of all for the best fireworks display I have seen off the pier. It was mind blowingly AWESOME! Massive congratulations to your team. I found at all times your team easy to work with and communication lines were always open. The way that they conducted themselves was typical to what we have come to expect out of Firework Professionals.."
Simon Events Production Co-ordinator, CCC (2012)
Contact Us Today to Make Your Show or Celebration Memorable