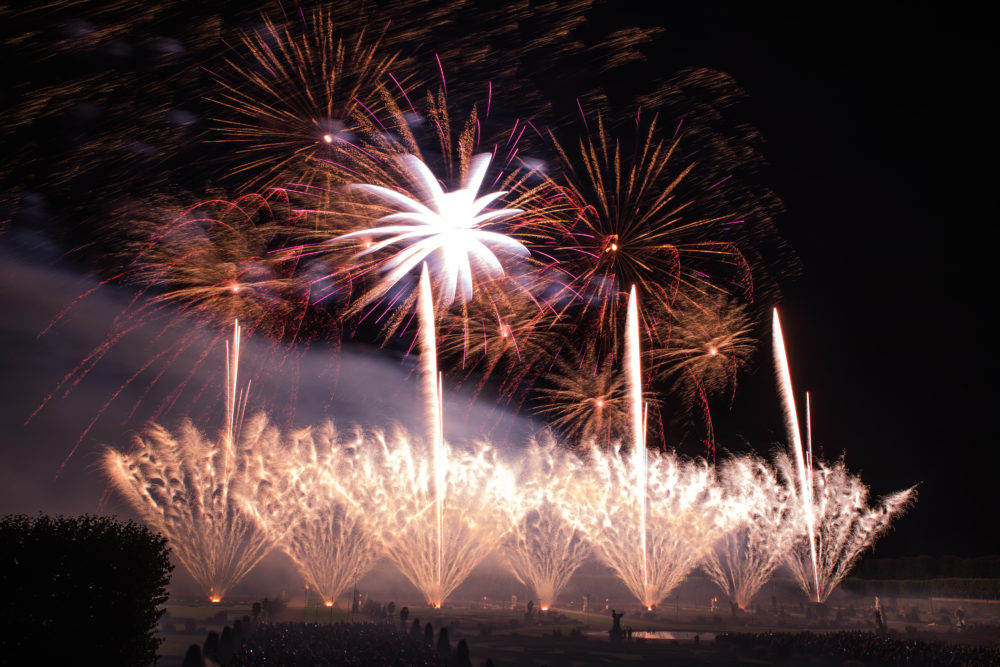 Firework Professionals produce stunning, safe and affordable professional firework displays for community and private events throughout Tāmaki Makaurau.
We've produced pyrotechnic events for over forty years, from small community gatherings to huge sky shows. We design outdoor firework shows, pyro musicals and indoor stage shows and provide confetti and special effects for film and live events.
From water, sky, land and buildings
Firework Professionals produce displays in all locations with a local team of skilled and highly experienced crews.
We've designed several barge shows in Auckland, as it's the perfect city for water-based shows. Our pyro-musical for the 175th-anniversary celebrations was fired from three barges, giving the audience vantage points from around the city. Here's the video.
Auckland was also the first place in New Zealand to have sky fireworks. We launched pyrotechnics suspended from a helicopter at the Twinings Iced Tea Skyshow Spectacular in 2000, a feat we repeated in Christchurch in 2002.
On land, Aucklanders get to enjoy one of the largest pyro-musical displays in New Zealand – Spooks and Sparks at the Trusts Arena. We've been performing the show since 2015, and it's always a night to remember. Here's a clip of the 2019 show.
And if you don't have a lot of ground space, we can fire displays from buildings, like this rooftop show in Aotea Square, for the 2019 Diwali Festival.
Professional fireworks for all our communities
We provide displays for cultural events such as Matariki, Chinese New Year, Diwali, and the busy nights around New Year's Eve and November 5th.
Whether it's a significant event, community gathering or a personal milestone and celebration, fireworks add colour, noise, beauty and art to your evening with your custom-designed pyrotechnic display. Call or drop us an email today to talk to us.
"Just wanted to say a huge thank you to you guys for such a fabulous fireworks display for our NYE event!  We were extremely happy with it – was hard to know what we'd be getting for the price having never done a fireworks display before but we were thrilled with the length of time the show went for and how impressive it was!  Great work!   Also how well the area was cleaned up and left so tidy afterwards.   Thanks to all involved."
Justine - Events Coordinator Grey District BPA 2021
"The feedback so far from Queenstown and Wanaka are they both looked amazing. All punters were stoked and pics that have come through looked amazing and certainly something you and the team should be very proud of. Look forward to working with you again."  Craig, Summit Events Wanaka

"Thanks so much for a wonderful display for Guy Fawkes. It is such a privilege to see your work which was stunning! Feedback has been great this end. Your team were terrific on the day - helpful, cheerful and I enjoyed working with you all." 
Sheena, CCC Events Team

"Just back in the office now….but the show was incredible!!! John and the team were amazing! Everyone raved about it! Truly, thank you so much for all of your help"  Kirstin, Cardrona

"Thanks first of all for the best fireworks display I have seen off the pier. It was mind blowingly AWESOME! Massive congratulations to your team. I found at all times your team easy to work with and communication lines were always open. The way that they conducted themselves was typical to what we have come to expect out of Firework Professionals.."
Simon Events Production Co-ordinator, CCC

"I wanted to express to  Fireworks Professional, my and my organisation's gratitude for the professional and brilliant displays the team  did for the both the Opening and Closing. While our traditional and contemporary entertainment performances were spectacular and well received by the audience it was the fireworks displays that were the talk of the country. Both were brilliant in every respect - timing & duration, mix of fireworks, the intensity. I was told even the seasoned overseas TV commentator said that of the many major ones he's witnessed around the world at major sporting and other celebratory events our were the best he's experienced - which says a lot. Thanks guys."
Vito Events Organsior, Samoa Youth Commonwealth Games

"The Trusts Spooks and Sparks Fireworks Spectacular was fantastic once again .. thanks to you.   The Fireworks are the pinnacle of the evening … thanks so much to Anthony and Chris and the team … a really spectacular show that people are still talking about. "
Stuart Smart Moves Group

"
WOW!!!!!!!!!
What a great firework display!!!   It really was spectacular and everyone is talking about it!!
The whole evening was a huge success with the Fireworks being the highlight!!
Thank you so much for all that you and your team have done to make it happen."
Claire, Lyttelton Harbour Festival of Lights

"Inside Out Productions recently produced the 175th Birthday Celebrations for Auckland City.  As part of this Fireworks Professionals were selected to supply the 8 minute Harbour fireworks show. Fireworks Professionals were successful in a thorough tender process and were chosen on a variety of areas, product, value, design and safety. 
We were extremely pleased with the end result.  The show was well designed, captivating and a huge success for our clients.  The product used was of a high standard and the systems in place gave me confidence that we had the necessary back up. Fireworks Professionals were very safety conscious, and the pyrotechnic staff's safety was always paramount.  All consents were granted without any problems or queries. 
I would not hesitate to to recommend Anthony and his team and we look forward to working with them again in the future."
Rebecca, Inside Out Productions

"The fireworks were an absolute hit!  I'm not sure if you were aware but we even made the Otago daily newspaper!  Our guests were well and truly blown away!"
Deborah, Private Wedding Display

"Thanks for a stunning 1812 Pyro display – just wow! Speechless as always to the story you tell through colour, pyro choice, musical interpretation and precision timing. But it is appreciated and noted! Thank you for  all your efforts on site and in the pre planning and the lead up to the event."
Sheena, CCC Events Team