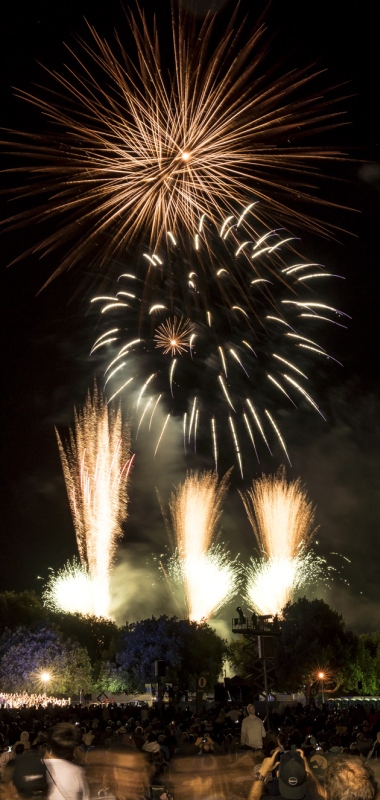 It was thirty-five years ago when an idea sparked from discussions among the Christchurch City Council events team (the Summer Times team back then) and the Christchurch Symphone Orchestra had – why not combine classical music with a picnic in the park ending with a fireworks show? Astrid Andersen discussed the idea with Anthony Lealand who saw how it could be done and "Classical Sparks" was born. Over the years it has changed name to "Sparks in the Park" to just "Sparks" – but what is constant is the CSO and the fireworks.
Mary Richardson now a senior manager in the Council remembers that first show:
I remember Anthony in the first event, running around in the dark of the park between trees lighting things – at that point I was still slightly nervous the whole stage or trees would explode. But Anthony was fantastic the timing worked perfectly which I think we were all worried about
Firework Professionals have produced the displays for most years since then. Choreographing fireworks to music is an art in itself (the display is known as a "pyromusical"). The pyrotechnician needs to have a good feel for the music and what the product can do. The music is building here – so the fireworks effect needs to mirror the reaching of the sound. Here is a climax – so something big and bold. Here the music is quiet – let's not overpower it or maybe leave the fireworks out completely at this point.
There are decisions about shapes and colours and heights and sizes. But the timing is also complex. If you fire the starshell at the climax it will appear several seconds after. So you need to fire it before the climax in order to match light and sound.
And with live music it is even harder. You need to keep an eye on the score and be aware of the speed the musicians are playing. So in addition to creating the choreography, picking and rigging the hundreds of effects, someone also gets to go along to rehearsals to see just how the orchestra will play the music.
This year Firework Professionals were proud to present another beautiful firework display in Hagley Park for tens of thousands of people in Christchurch. The 1812 is always a hugely popular piece to end the concert, and it works so well with fireworks that it's always a great finale.